SPECIAL OFFER!
Join MI40 Nation FREE for 15 days!
…If you're looking to transform your physique in record time, you're in the right place!
This offer is LIMITED to the first dedicated individuals… so take action FAST!
This is your opportunity to unlock the tools you need at a price as unbelievable as the transformation we will help you to achieve!
Let me Join MI40-Nation Now!
A quick word from Ben:
All Access Xtreme


Membership
Members gain access to…
World-Class Workouts
A brand new cutting-edge 6 WEEK WORKOUT PROGRAM from Ben EVERY 6 WEEKS! These exclusive workouts are designed to BUILD CHAMPIONS and will help take you from where you are now, to WHERE YOU WANT TO BE, in RECORD TIME! Whether your goal is to add POUNDS of ROCK HARD MUSCLE, or SHRED yourself to 8-PACK ABS (or both!), these workouts GUARANTEE results!

Training Secrets
Access to Ben's PRIVATE EXERCISE LIBRARY containing his very BEST training "SECRETS"!
Gourmet Recipes
Put down the bland and boring chicken and broccoli with access to hundreds of MI40-Approved MUSCLE-BUILDING / FAT MELTING GOURMET RECIPES!

Expert-Level Support
Members also gain access to the MI40 Nation PRIVATE COMMUNITY where not only will you get to interact with like-minded people walking the same path, but you'll also receive support from Ben and his expert MI40 Ambassador team, to help motivate, educate, and keep you on track for PHYSIQUE TRANSFORMATION SUCCESS!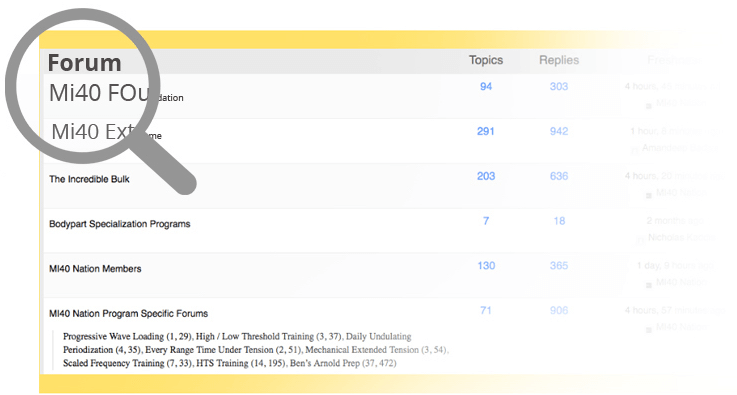 Ready to step things up to a whole new level?
FREE 15 day trial to test it out…
$57     $0
(If this isn't the most INTELLIGENT MUSCLE BUILDING information you've found, cancel at any time!)
Let me Join MI40-Nation Now!
---
You will have full access to MI40 Nation All Access Xtreme Membership for 15 days with this offer, starting immediately. After your 15 day trial, you will be re-billed $57 monthly until you choose to cancel – you can cancel at any time. If you have any questions prior to purchase, we invite you to email us at [email protected] If you cancel before 15 days, you pay nothing!